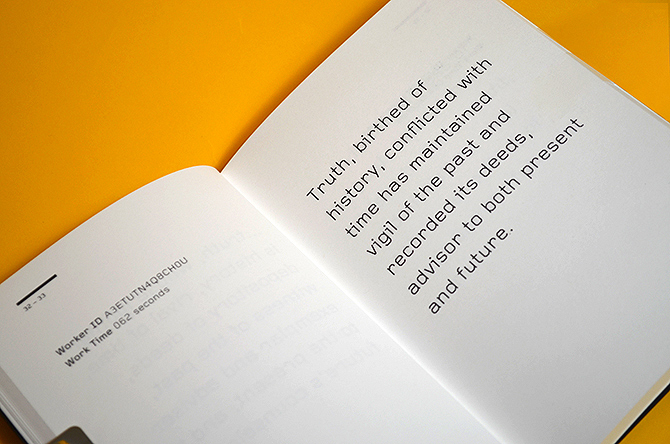 2014
Laser Print., 134 pages, 12×18 cm.
+ About the Work
The book Mechanical Turk, author of the Quixote is based on Jorge Luis Borges' short story Pierre Menard, author of the Quixote. In the story, Borges introduces us to the most significant work of a fictional 20th-century French writer—the translation of a small portion of Miguel de Cervantes' Don Quixote.

Menard's version recreates Cervantes' Quixote word for word but the narrator argues that Menard's version is infinitely richer, pointing out that the time elapsed between texts has altered the relationship between words and meanings, a relationship that is mediated by the reader.

For this project I asked workers at Amazon Mechanical Turk to re-write Pierre Menard's portion of Don Quixote. Amazon Mechanical Turk is an online crowdsourcing marketplace where people can execute human intelligence tasks (HITs), tasks that can't be done correctly, consistently, or efficiently by computers. On the website you post a small task and announce how much money people will get for executing it.

The intent here was not to determine which translation was more accurate but to explore what is revealed about the translators and their context through their creative "infidelities."
ABOUT THE ARTIST
Bárbara is a graphic designer originally from Rio de Janeiro currently based in New York. She has been working as a graphic designer for a few years with printed matter, books and creates illustration for motion graphics. She has an MFA in Communications Design from Pratt Institute where she focused her thesis research on design as a form of conversation and investigated participatory and relational practices in design. She currently work as a freelance designer at Bloomsbury Publishing.
Website: serrilha.com
Instagram: @ba.bs